Did You Know That We're on Social Media?
August is already here and that means that we've created a new installment of Probiller's video series. We've gotten so much love from all of you for keeping you up to date through these videos, we'd first just like to say thanks for being such loyal customers!
In this month's video we're highlighting our presence on social media. You may not know it, but Probiller is on Facebook, Twitter, and Instagram. Chances are, you already have an account on one of these platforms and we'd love for you to give us a follow.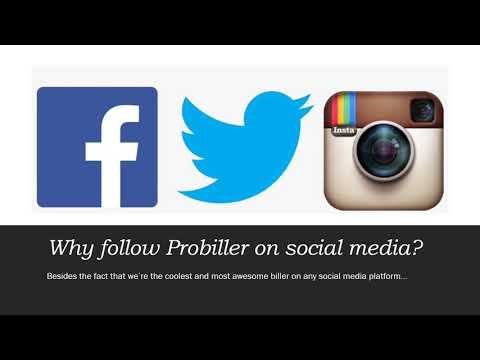 Why follow us?

Besides our exceptional billing services that have garnered a reputation for excellence over the years, following us on social media would also allow you to get in touch with us quickly. We know that sometimes you may have questions about our services, and it's quite simple to shoot us a DM via social media. Not only will we answer you back quickly, we can also answer you in a range of different languages. At Probiller, we believe communication is everything and we strive to make your experience with us a positive one.
Sidenote: we often update our social media accounts with fun stuff like memes and status updates, so, it's yet another great reason to follow us. We'd hate for you to miss out!
Take a minute to come visit us. We're certain you won't be disappointed!